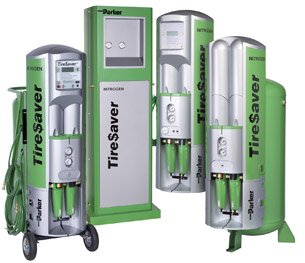 The Future of Tire Pressure.
Nitrogen is a non-flammable dry gas that keeps your tires properly inflated longer than "plain old air". (Oxygen leaks out of a tire 3 to 4 times faster than nitrogen.)
For tire inflation, there's nothing better than nitrogen.
Nitrogen porvides better maintainance of tire pressure which maximizes...
* Fuel Economy
* Handling
* Safety & Reliability
... and it's better for the environment.
Your return on Investment
$50 a year in Fuel Savings

15,000 miles per year

20 mpg=750 gallons

$2 Gallon=$1,500

3.3% fuel savings=$50
$80-INCREASED TIRE LIFE

AVERAGE TIRE $100 X 4

EXTENDS LIFE 20%=$80

$50+$80=$130 SAVINGS
Increased Safety

50-70 deaths and 10,000 injuries occur each year due to under-inflated tires.